Members of the Colgate community and the University's Board of Trustees gathered at Olin Hall on Friday, May 6, as the University broke ground on the Robert H.N. Ho Mind, Brain, and Behavior Center.
"With the creation of this new center, and other Third-Century Plan initiatives, we are increasing the reach and reputation of Colgate's academic enterprise," said President Brian W. Casey. "There are moments when you can see a university become better, stronger, and more excellent. We're about to witness one of those moments as we launch the Robert H.N. Ho Mind, Brain, and Behavior Center and invest directly in our faculty, students, and staff in creative and new ways."
Established in 2019 with a $15 million gift from trustee emeritus Robert Hung Ngai Ho'56, H'11, the Robert Hung Ngai Ho Mind, Brain, and Behavior Initiative (MBBI) supports innovative research and multidisciplinary scholarship, bringing together students and faculty from psychological and brain sciences, neuroscience, biology, philosophy, linguistics, economics, political science, and the arts.
Ho's gift, along with the generosity of other leadership donors, will fund a significant renovation and expansion of Olin Hall, which will house the Ho MBBI. The expansion will create a new east wing — the Robert H.N. Ho Mind, Brain, and Behavior Center — which integrates the physical environment of Olin Hall with the Ho MBBI's ideals and mission.
This space will feature a two-story atrium with areas for study, collaboration, and conversation. The perimeter will house faculty and administrative offices, while the upper floors will include labs, classrooms, and offices. A basement level will provide opportunities to develop labs and other spaces that respond to future needs of scientific inquiry.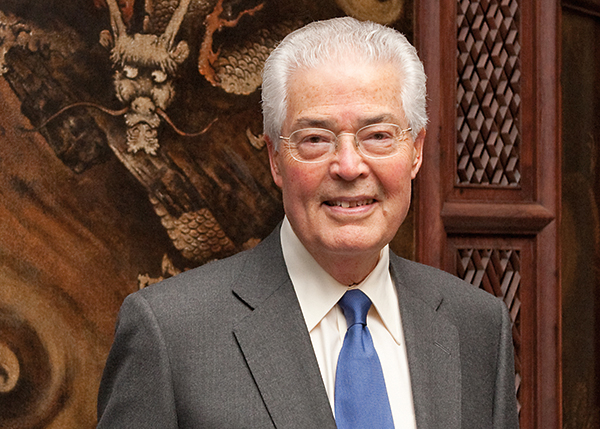 "The Robert H.N. Ho Mind, Brain, and Behavior Center will transform our largest academic building and enhance the academic quad," said Jeanne Follansbee'78, P'08, vice chair of the Board of Trustees. "Like the knowledge that will be created here, Colgate is evolving and this is how we secure our place as a leading, national institution that can make past, present, and future generations proud."
Olin Hall currently hosts hundreds of students and faculty engaged in study, teaching, and research in fields encompassed by the Ho MBBI. Expanding and reimagining Olin Hall's footprint creates potential for future growth and promotes the multidisciplinary collaboration that MBBI seeks to cultivate across academic areas at Colgate. Additional lab space also allows undergraduates to have unmatched access to research experiences and study with faculty in settings that not only distinguish the University from its peers but enable interdisciplinary scholarship and teaching.
The gift that spurred Friday's groundbreaking came during the silent phase of Colgate's recently launched $1 billion Campaign for the Third Century, which saw the University raise more than $400 million dollars from generous community members. These resources have allowed the University to begin implementing aspects of its Third-Century Plan, including the Ho MBBI as well as expansion of the Colgate Commitment; establishment of new endowed chairs; creation of a hub for arts and creativity in a new Middle Campus; and plans for renovations of the Reid Athletic Center and completion of the Residential Commons.
Ho's gift to establish MBBI is just the latest expression of his commitment to Colgate. Among his many other contributions to the physical and intellectual landscape of the University are an endowed chair in Asian studies, an endowment to support the China Study Group, the Robert H.N. Ho Lecture Room in Lawrence Hall, and a transformational gift that opened the Robert H.N. Ho Science Center and the Ho Tung Visualization Laboratory in 2007.