Colgate University has announced the creation of a new endowed professorship, made possible through a $2.5 million gift from Mark S. Siegel '73. The Mark S. Siegel University Professorship will always be held by the provost and dean of the faculty at Colgate and thus will be held by Colgate's current provost and dean of the faculty, Lesleigh Cushing. In addition to being the Mark S. Siegel University Professor and provost and dean of the faculty, Cushing is also professor of Jewish studies and professor of religion.
The Siegel Professorship will underscore the standing of the provost's position as the University's chief academic officer.
The University set a goal through the Campaign for the Third Century to create 25 new endowed professorships — to celebrate, attract, and retain leading teacher-scholars, who have long been a point of distinction for the institution and a source of connection for students. Generous alumni and friends have already funded the creation of with 12 new endowed faculty chairs.
Mark S. Siegel, the founder and president of ReMY Investors & Consultants, Inc., graduated magna cum laude and Phi Beta Kappa from Colgate with a degree in philosophy. In 2009, he established a sizable yearly endowed prize at Colgate for great undergraduate teaching, named in honor of his favorite philosophy professor, the late Jerry Balmuth, Harry Emerson Fosdick Professor of philosophy and religion emeritus. Siegel received an honorary degree in May 2023 — in recognition of his long history of leadership and philanthropy, especially his contributions in support of Colgate's faculty.
"Leadership from the provost and dean of the faculty will ensure that the University advances a wide range of goals set out in the Third-Century Plan," says Siegel. "I hope this endowed award serves to recognize and support the provost's efforts to develop scholar-teachers who engage with students in meaningful ways and to ensure Colgate's commitment to academic excellence."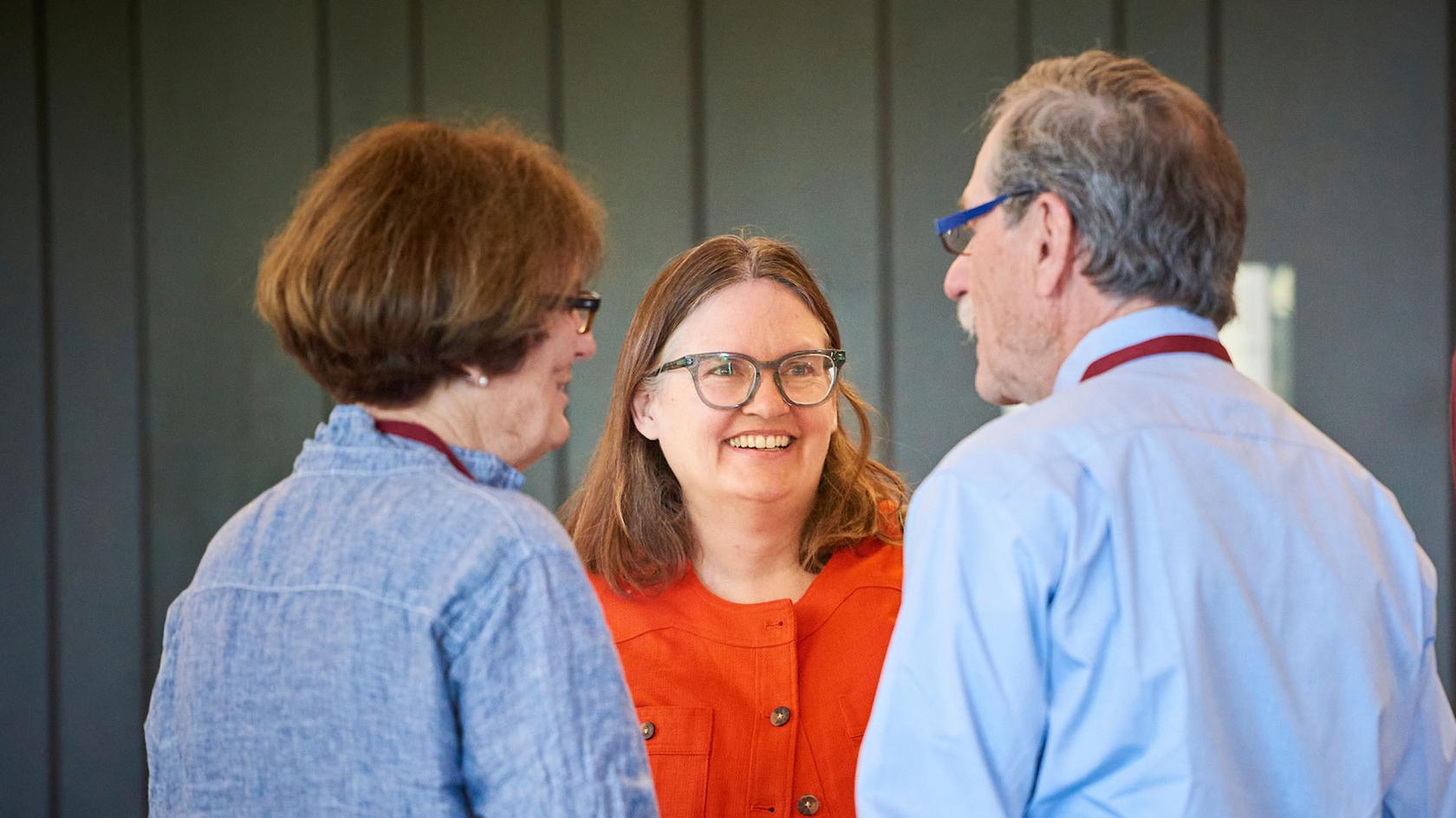 The inaugural recipient of the Mark S. Siegel University Professorship, Lesleigh Cushing, was named provost and dean of the faculty in July 2022. Cushing arrived at Colgate in 2002, after receiving a BA in English literature and religious studies from McGill University, a master of theological studies degree from Harvard Divinity School, and her PhD in religion and literature from Boston University. In 2015, she was named Murray W. and Mildred K. Finard Associate Professor in Jewish studies and associate professor of religion. She was promoted to the rank of full professor at Colgate in 2018.
Between 2017 and 2021, Cushing served as associate dean of the faculty, focused on faculty recruitment and development, a role in which she worked with many campus colleagues to develop several of the academic dimensions of the Third-Century Plan, including the Middle Campus Plan for Arts, Creativity, and Innovation.
"I am honored to be the inaugural recipient of this endowed professorship and to continue working with President Casey and the faculty to pursue excellence in all of Colgate's teaching, research, and creative endeavors," says Cushing.
President Brian W. Casey also extended his gratitude to Mark S. Siegel — and shared his hope for the future of the endowed professorship.
"Thanks to Mark Siegel's generosity and vision, I am confident that this endowed professorship will help elevate Colgate's reputation as the University fully realizes its Third-Century ambition to become a national leader in higher education — and the most important undergraduate institution in the country," he says.
Third Century Endowed Chairs
W. Bradford Wiley Chair in International Economics
Carl Benton Straub '58 Endowed Chair in Culture and the Environment
Rebecca S. Chopp Chair in the Humanities
Daniel C. Benton '80 Endowed Chair in Arts, Creativity, and Innovation
Peter L. and Maria T. Kellner Endowed Chair in Arts, Creativity, and Innovation
Third Century Chair in Philosophy, Politics, and Economics
Himoff Family Chair in Legacies
Sweet Family Professorship
Hurley Family Chair in Dialogue, Deliberation, and Decision Making
Nora Gleason Leary '82 and Robert G. Leary Chair in Environmental Studies
Jarrett R. Turner '04 Third-Century Chair
Mark S. Siegel University Professorship